Growing concerns began circulating on November 26 that Wrapped Ethereum (WETH) was no longer pegged to ETH. Some speculated that WETH was not backed 1:1 by ETH, which sparked fears of insolvency. Ethereum developers and influencers stepped in to wrap up the situation, calling it FUD.
The recent price corrections triggered by the collapse of FTX have heightened fears and uncertainty within the already turbulent cryptocurrency industry. Speculation can inject further anxiety, as is the case here.
An alleged joke regarding Wrapped Ethereum's insolvency was trending this weekend. Blockchain and ERC-721A developer "cygaar" took to Twitter on November 27 to claim that WETH would soon be insolvent:
Following this, Ethereum bull and Daily Gwei host Anthony Sassano chimed in, indicating:
"A person I have known for more than ten years, whom I consider trustworthy, is convinced that WETH will disintegrate and experience total collapse. I don't know anything concrete, but if I was exposed, I would be worried.
ETH Influencers Say Keep Calm
Despite the speculation that raged after these comments, many ETH supporters and influencers ignored the concerns. In a later post, cygaar confirmed that it was a "sh*tpost" to see who was reading its content.
They then added in a series of threads that "WETH can never become insolvent" and "WETH will always be exchangeable 1:1 with ETH".
Meanwhile, Sassano also referred to his initial posts as "sh*tpost/meme" after reading the replies.
He even went as far as apologize to the community for sowing fear:
"I sincerely apologize for my sh*tposting WETH, I honestly thought it was harmless and people weren't going to take it seriously (my fault for thinking that). Will do better in the future.
Other influencers also added their stories to compensate for the uncertainties around the false rumors. Including the co-founder of Gnosis Martin Köppelmann and Dankrad Feistresearcher at ETH.
Rumors versus facts
Wrapped Ethereum is a smart contract that accepts ETH and returns an ERC-20 token called "WETH," a wrapped version of ETH pegged at a 1:1 ratio. It aims to address interoperability issues on blockchains Ethereum compatible by making it easier to exchange ERC-20 tokens.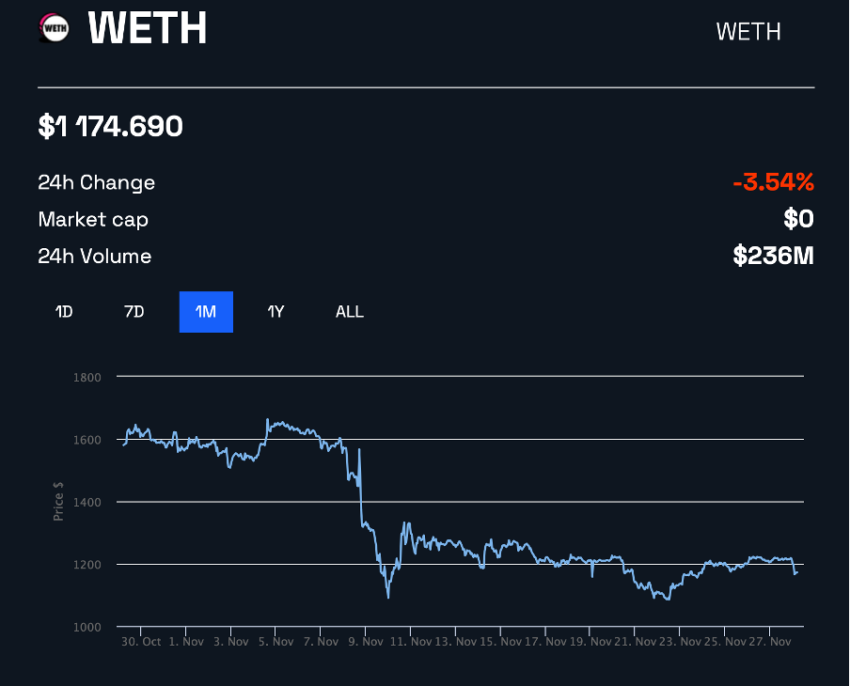 In terms of valuation, WETH currently stands at $1,174.69 at a ratio of 0.999:1 to ETH after seeing a decline of 3.71% in the last 24 hours.
Disclaimer
All information contained on our website is published in good faith and for general information purposes only. Any action the reader takes on the information found on our website is strictly at their own risk.